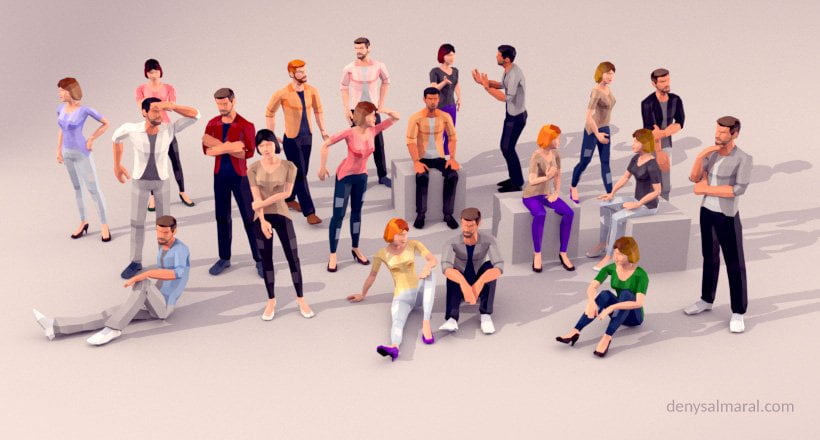 Using the popular Casual Couple, I created a few poses and later modified the colors to make a total of 20 different fixed poses. Standing, walking, talking, and sitting are some of the body expressions created as you can see in the image above.
These are great for architecture visualizations as they can be used as visual references for the real proportions of your scene. Sometimes it is better to use stylized, low poly style, nice-looking characters rather than loading your scene with heavy, high-poly, realistic characters that may fall in the uncanny valley of taking the user's attention away from what really matters.
Specifications
Made with 3Ds Max, with around only 1500 triangles (or 900 polygons) in each.
The unit system is 1 unit = 1 cm, and real estimated human proportions were used.
The material is simple standard with diffused color.
The texture is small: 256×256 pixels shared between them, one polygon, one color. "UV Mapped" using this MaxScript Poly Paint Tool.
Solid clean objects (NOT rigged).
LICENSE: Creative Commons Attribution 4.0 license (Attribution is required!)
Download
Ask me anything on Twitter or show me something cool you did with this!
Premium Pack: 500 Low Poly Static Poses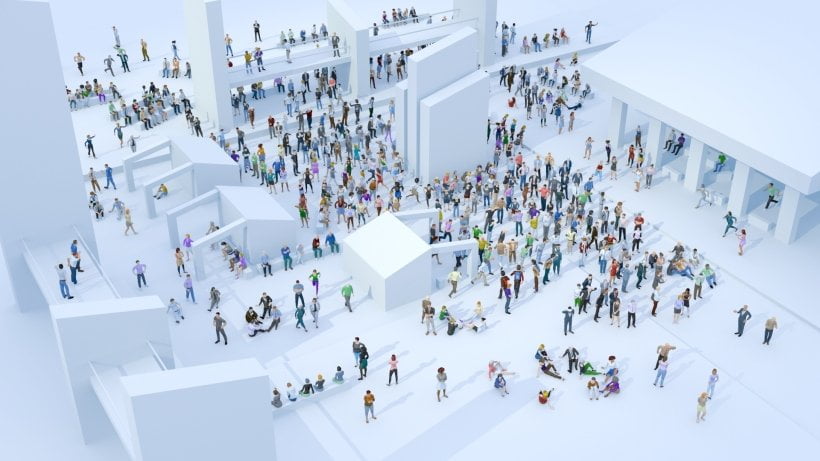 You are reading this right – 500 models! Originally created from 20 characters, applying 25 poses and then modifying the texture mapping of the resulting 500 manually! 
GO TO STORE