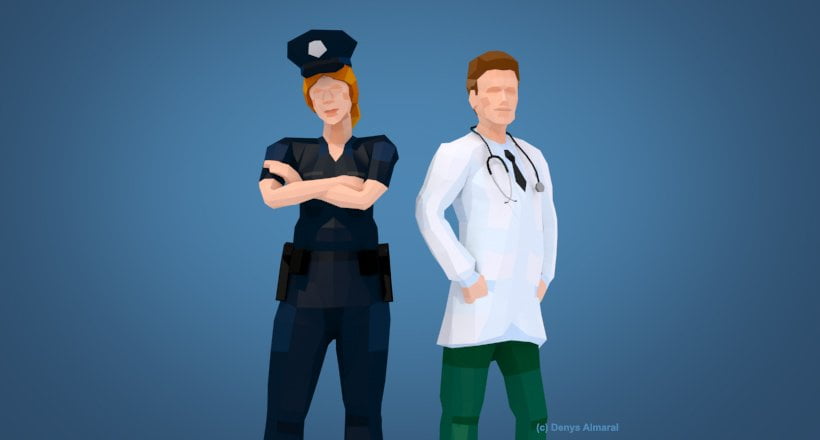 A policewoman and a doctor! What could you do with this team? Again for free download in popular Low Poly 3D style. Many times, simpler is better.
Specifications
These models are made  with 3ds Max, with only around 900 polygons, each one.
The unit system is 1 unit = 1 cm, and real estimated human proportions were used.
The material is simple standard with diffuse color.
Texture is small 256×256 pixels shared between them, one polygon, one color. "UV Mapped" using this MaxScript Poly Paint Tool.
They preserve the Symmetry modifier for easy costumization.
Setup: Rigged with 3ds Max Biped system and Skin modifier.
Skeleton structure is compatible with Unity humanoid rig. (

Tested!

).
LICENSE: Creative Commons Attribution 4.0 license (Attribution is required!).
Now available compatible FREE animation pack! enjoy!
Download
Donate
Ask me anything on Twitter or show me something cool you did with this!
Premium Bundle: More LowPoly Character Professions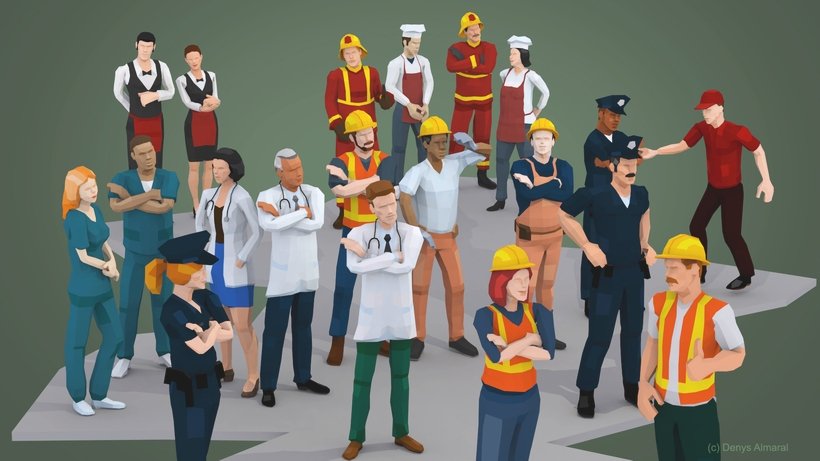 The premium bundle at TurboSquid contains 20 low poly characters, each of them different in face features, body structure and outfit, Representing 7 professions:
Construction workers (5)
Doctors and nurses (5)
Police officers (3)
Waiters (2)
Chefs (2)
Firefighters (2)
Delivery guy (1)
Buy at TurboSquid
Popular Today
Free Lowpoly Donald Trump 3D Character

Lowpoly Donald Trump 3D Character is a minimalist artistic representation inspired by the most relevant features of the real person. Rigged in 3ds Max and ready to use for animations and games. Includes FBX format and Unity Demo. Brought for you, by me, for FREE download using Creative Commons Attribution…

Free LowPoly Style Casual Couple 3D Characters

I'm giving away for free download this male and female 3D rigged characters. LowPoly 3D style is not only attractive is also easy to handle, lightweight mesh data ideal for mobile games and presentations. Characters in very low polygon count don't have to be ugly, the right hand-made simplification preserving…

Symmetry Fix Algorithm for 3D Meshes

Not founding an existing solution on my case (3ds Max + MaxScript) I have "invented" (On the internet everything is already invented if you search enough, I didn't search enough) an algorithm to fix a 3D mesh that some of it's vertices went out of symmetry. The problem Imagine we…