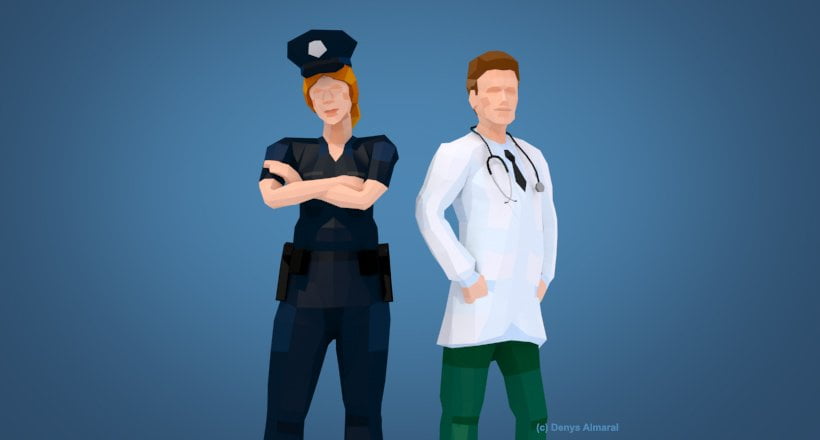 A policewoman and a doctor! What could you do with this team? They are available for free download in the popular Low Poly 3D style. Most of the time, simpler is better.
Specifications
These models are made with 3Ds Max, with only around 900 polygons in each.
The unit system is 1 unit = 1 cm, and real estimated human proportions were used.
The material is simple standard with diffused color.
The texture is small 256×256 pixels shared between them, one polygon, one color. "UV Mapped" using this MaxScript Poly Paint Tool.
They preserve the Symmetry modifier for easy customization.
Setup: Rigged with the 3Ds Max Biped system and Skin modifier.
Skeleton structure is compatible with Unity humanoid rig. (

Tested!

)
LICENSE: Creative Commons Attribution 4.0 license (Attribution is required!)
Now available with a compatible FREE animation pack! Enjoy!
Download
Ask me anything on Twitter or show me something cool you did with this!
Premium Bundle: More Low Poly Character Professions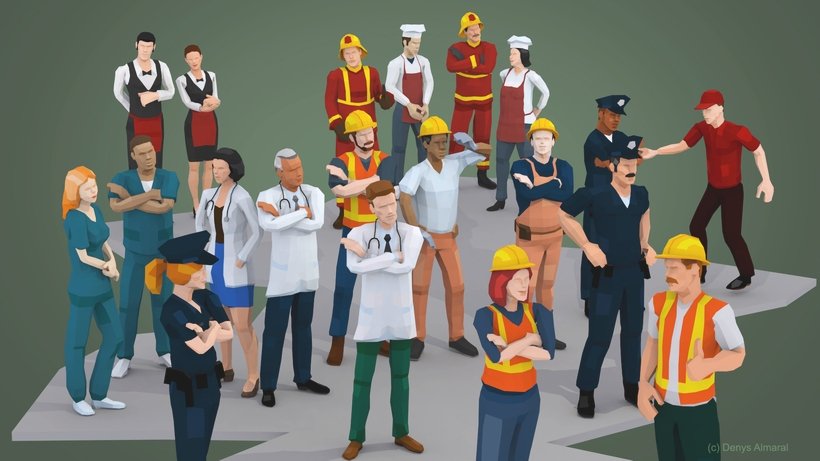 The premium bundle at TurboSquid contains 20 low poly characters, each of them different in facial features, body structure, and outfit, representing 7 different professions:
Construction workers (5)
Doctors and nurses (5)
Police officers (3)
Waiters (2)
Chefs (2)
Firefighters (2)
Delivery guy (1)
GO TO STORE