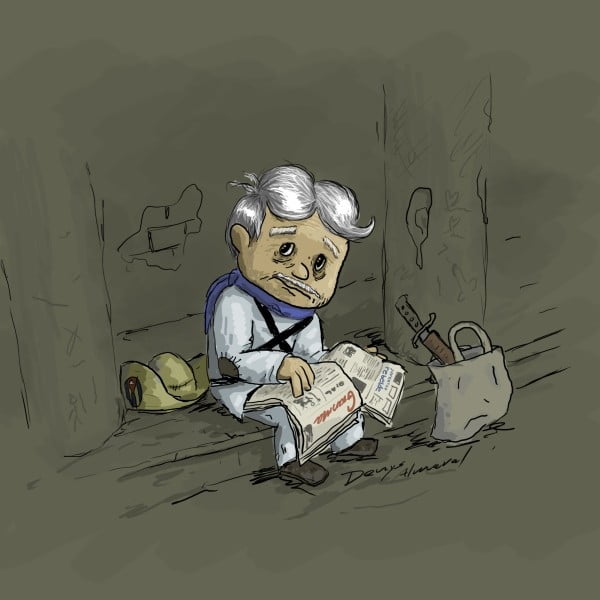 Elpidio Valdés gets old: – I made this drawing and after few days it got quickly more than 1,000 shares on Facebook among Cubans.
Elpidio Valdés is to Cubans as Superman is to north Americans, our childhood hero. The original younger
cartoon character
was created in 1970 by Juan Padrón. As a comic and
television shorts films
quickly became part of Cuban culture. Elpidio was a colonel fighting against Spanish colonialism of late 19th century, characterized with the strong and brave virtues of our homeland heroes, like
Máximo Gómez
and
Antonio Maceo
who fought with machetes against the fire guns Spanish soldiers (hmm… would be nice to make a real-time strategy game about this).
Now after more than 50 years of a socialist totalitarian system that already failed worsened with the U.S. embargo, there is a serious demographic problem because of low birth rate and high migration of young working force. The aging population problem is perfectly explained here:
So we have then a high number of old people that worked hard believing in the Revolution process that currently they are walking the streets selling newspapers, candies, peanuts or even begging. These are our real life heroes, our fathers, mothers, and grandparents. In the best case scenario, they are at home watching TV and reading newspapers waiting for a call from his sons and grandsons from Florida or many other countries of the world where young Cubans have gone.
Finally linking all together we have the caricature of our elder Elpidio Valdés. Our hero is defeated and behind his gaze, we see all our elders. Waiting for better times, but the time is everyday shorter for them.
Reception:
Popular Today
Free Lowpoly Donald Trump 3D Character

Lowpoly Donald Trump 3D Character is a minimalist artistic representation inspired by the most relevant features of the real person. Rigged in 3ds Max and ready to use for animations and games. Includes FBX format and Unity Demo. Brought for you, by me, for FREE download using Creative Commons Attribution…

Free LowPoly Style Casual Couple 3D Characters

I'm giving away for free download this male and female 3D rigged characters. LowPoly 3D style is not only attractive is also easy to handle, lightweight mesh data ideal for mobile games and presentations. Characters in very low polygon count don't have to be ugly, the right hand-made simplification preserving…

Free Polygon Painting Script and LowPoly Owl

pX Poly Paint is a 3ds Max script  I felt the need to develop when started creating #LowPoly style models. Based on a basic principle: Each face will have a single flat color from a texture pixel. Then we don't need to make traditional UV Mapping, just map all a…