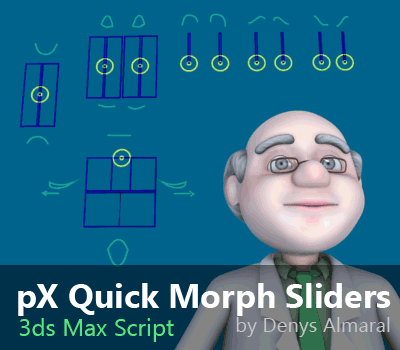 pX Quick Morph Sliders is a great time saver MacroScript for automated creation of sliders controls using shapes. Only a few  clicks and you'll have controls wired to morph channels.

Features:
– Mixing up to 4 channels
– Restoring controlles.
– Creating multiple or selected.
–  Name prefix and shape colors.
– Visual feedback!
Right-Click>Save as to download or see on Github here.
– Install pxQMorphSliders.ms on you 3ds Max
– Customize your menus: Category: 'pX Tools', item: 'MorphSliders'.
– Open Quick Morph Sliders floater.
– Select an object with Morpher modifier applied.
– Click: ADD MORPH CHANNELS to feed the list.
– Click: Create simple sliders
– Done! 😀 All your morpher channels now  have simple shape controls wired to them.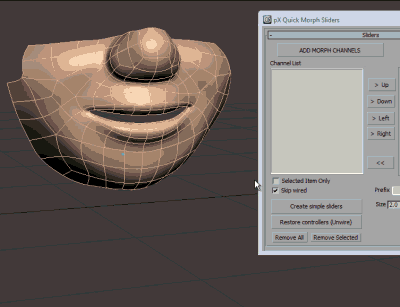 Note: The scene in the video is included with the script download. A cartoon style mouth with 6 morph targets!
User Interface reference:
Add morph channels: Click this button to get all morph channels form selected object.

Channel List: Morph channel names list.

Selected Item Only: Create simple sliders of selected item on the list.

Skip wired: Skip a morph channels if already connected by wire parameters.

Create simple sliders: Create simple sliders shapes ready for animation.

Restore controllers (unwire): Disconnects wire parameters and restore Beizer Float controllers.

Remove All, Remove Selected: Remove morph channels from the list.

4 Channels Mix Slider, Up, Down, Left, Right:  Assigns morph channels to any of four directions a mixer slider can move.

Create Slider Mix: Creates a sliders mixing up to 4 channels.

Prefix: Add a prefix to every shape object created by this tool.

Size, Slider color, Base color: Customize appearance.
Please left a comment to know if this script was useful to you. Share your Max version and tell me if it has any problem, crash or bugs!
Enjoy!
Popular Today
Free Lowpoly Donald Trump 3D Character

Lowpoly Donald Trump 3D Character is a minimalist artistic representation inspired by the most relevant features of the real person. Rigged in 3ds Max and ready to use for animations and games. Includes FBX format and Unity Demo. Brought for you, by me, for FREE download using Creative Commons Attribution…

Free LowPoly Style Casual Couple 3D Characters

I'm giving away for free download this male and female 3D rigged characters. LowPoly 3D style is not only attractive is also easy to handle, lightweight mesh data ideal for mobile games and presentations. Characters in very low polygon count don't have to be ugly, the right hand-made simplification preserving…

Symmetry Fix Algorithm for 3D Meshes

Not founding an existing solution on my case (3ds Max + MaxScript) I have "invented" (On the internet everything is already invented if you search enough, I didn't search enough) an algorithm to fix a 3D mesh that some of it's vertices went out of symmetry. The problem Imagine we…