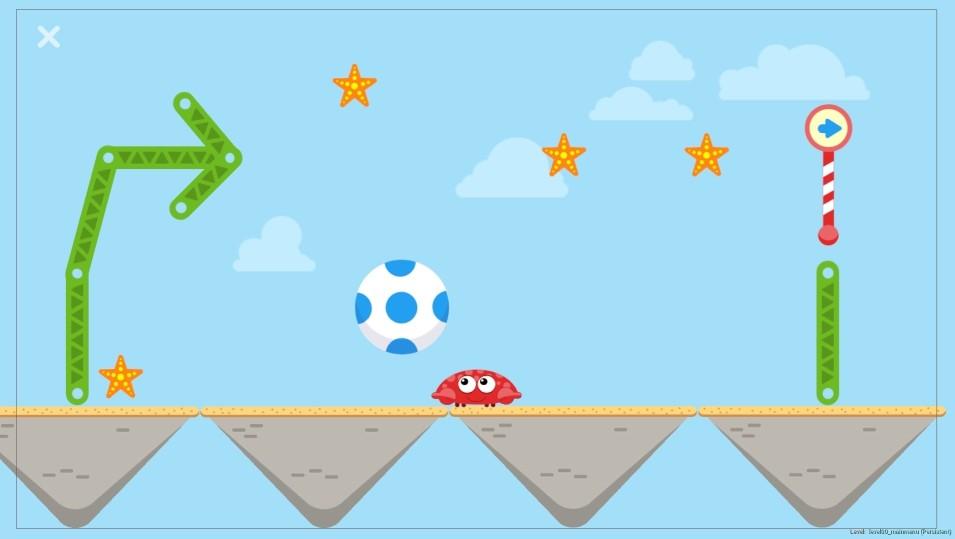 Crabby Ball ( Click to enlarge )
My game development dream has reborn thanks to Unreal Engine 4.
On December 3th, 2014 I re-subscribed to download 4.6 (before going free!), and decided to be serious this time in learning blueprint programming with UE4 editor. I tried before, but only watched some videos and sample demos. This time, after an intense week of tutorials and examples exploration, I decided to start my first simple 2D game for Android devices, experimenting with this gameplay:
Then with only 20 days of full work I could release a modest Beta version and even publish it to Google Play, here it is a game-play demo:


Crabby Ball is a simple 2D physics platformer in which you have to control the ball with little Crabby's head, and the objective is to try to cross it over or trough a colorful sign. It currently has 12 levels.
Now I want to finish it, the hardest part is to finish a complete game, no matter how simple it is. With the great news that UE4 is now free I have a new motivation to keep learning and working with the best engine in the world 🙂
Blueprints are AWESOME! Because is not a simple scripting language, is a visual script with all the benefits of
Object Oriented Programing
!
(If I going to make a game with scripts only I do not accept any engine script without OOP. Why? Because when your game start to grow big, things will become very messy and repetitive, and good OOP can solve it)
Popular Today
Free Lowpoly Donald Trump 3D Character

Lowpoly Donald Trump 3D Character is a minimalist artistic representation inspired by the most relevant features of the real person. Rigged in 3ds Max and ready to use for animations and games. Includes FBX format and Unity Demo. Brought for you, by me, for FREE download using Creative Commons Attribution…

Free LowPoly Style Casual Couple 3D Characters

I'm giving away for free download this male and female 3D rigged characters. LowPoly 3D style is not only attractive is also easy to handle, lightweight mesh data ideal for mobile games and presentations. Characters in very low polygon count don't have to be ugly, the right hand-made simplification preserving…

Free Polygon Painting Script and LowPoly Owl

pX Poly Paint is a 3ds Max script  I felt the need to develop when started creating #LowPoly style models. Based on a basic principle: Each face will have a single flat color from a texture pixel. Then we don't need to make traditional UV Mapping, just map all a…