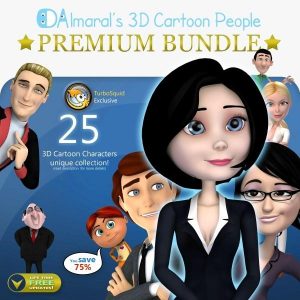 A lot of TurboSquid customers love my characters. If you like them too, this is the opportunity to own a great collection of 25 3D cartoon people for all your present and future projects. Hey, you can even make a movie! My cartoons not only have a very cute and clean design, but they are also technically efficient and easy to work with.
Once you buy this bundle, you'll always have access to download files indefinitely from your Purchases & Downloads area including new updates, without additional cost!
What kind of updates could be available?  New rigged versions, Conversions, Improvements, Fixes, Texture variations, Scripts, and more!
Are these 3D models right for me?
Yes, if these fit your project needs:
– These good quality, standard 3D cartoons are made with economic, efficiency, and standard techniques in mind. Targeting small and medium animation studios, individuals and students learning modeling or animation.
– My files are organized and clean; every object named specifically. No hidden surprises.
– Work made for team collaboration from its first polygon created, intended to be used by many users everywhere.
– Dependencies are strictly avoided. You'll never need third party plugins.
– Special effects are out of the scope of these "standard" types of characters. There is no use of Hair and Fur or any other high-resource consuming features. Clothes simulation may be used in one or two characters. Even materials are 3Ds Max standard, not tied to a particular renderer.
– You can easily customize, change textures, modify models, and import to your favorite software. (Rigged characters could lose some features)
– Characters are ready for production. Start animation and rendering as soon as you open the files.
May not suitable for your needs, if you are looking for:
– Ultra-high hyper-realistic cartoon models. To fit the price and low resource consuming assets, these characters are not comparable in complexity and details to those from the big companies at the top of the film industry like Pixar or Dreamworks.
– Since they are intended for general animation and rendered visual productions, they may not be suitable for real-time simulations and games. Even though I've tried some of them and they look nice, more optimized, Game-Ready versions will be provided later on my TurboSquid account.
– Resell the model or the rendered images? NO, because the TS Royalty-Free license forbids that! Please don't resell.
– Convert the 3Ds Max Rigged character to Maya, C4D, Blender or others: Due to complexity and particularities of each 3D software, there is no guarantee that automated tools could convert rigged characters without loosing some features. These would need manual rework done inside the target software. Contact me if you need help making these kinds of conversions.
General Technical Characteristics
– The native file format is 3ds Max (from versions 2009 to 2012). Available also in the popular FBX and OBJ format. FBX and OBJ exported without Rigging or subdivision modifiers.
– Polygons range from 3,000 to 6,000 without subdivision. 22 models of this collection are Quads Only. All of my cartoon characters since March/2011 are Quads Only.
– Texture sources are available as .PSD to edit in Photoshop. Most layers are vector shapes with effects, which means that if you need huge sized textures you can resize them without losing quality just as you do with vector graphics!
– Unit Setup: 3ds Max defaults: 1 unit = 1 inch = 2.54 centimeters. Display unit: Centimeters.
Updates
Once you buy this product, you'll have access to unlimited download files from your TurboSquid Purchases & Downloads area. This includes any additional new updates, without additional cost!
What kind of updates could be available?  New rigged versions, Conversions, Improvements, Fixes, Texture variations, Scripts and more!
Collection Contents
Source files are archived in volumes and each volume contains folders with all the necessary files to work with each character:
Volume 01:
– Rigged Cartoon Woman 01 Girl in Black
– Rigged Cartoon Man 01 Office Worker
– Cartoon Guy 02 Big Nose
– Rigged Cartoon Kid 03 Pink Cheeks
– Rigged Cartoon Kid 02 Redhead Girl
Volume 02:
– Rigged Cartoon Baby 01
– Cartoon Woman 02 Orange Girl
– Rigged Cartoon Woman 03 Blond in Red
– Rigged Cartoon Man 03 Clever Guy
– Rigged Cartoon Man 05 Handsome Guy
Volume 03:
– Cartoon Old Man Doctor
– Cartoon Woman 04 Afro-American
– Rigged Cartoon Boy Cool
– Cartoon Kid 04 Nice Boy
– Cartoon Kid 05 Curious Girl
Volume 04:
– Rigged Cartoon woman Blond Business
– Cartoon Man 10 Police Officer
– Cartoon Woman Sexy Latina
– Cartoon Man 09 Tourist Guy
– Cartoon Superhero Classic
Volume 05:
– Rigged Cartoon Man Charming Guy
– Rigged Cartoon Businessman Boss
– Rigged Cartoon Woman with Glasses
– Rigged Cartoon Man Green Guy
– Rigged Cartoon Kid 01
That's all! Buy this amazing pack and enjoy it!
Suggestions, requests, etc… comment below or  contact me.