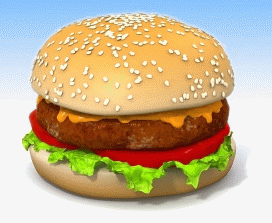 I asked myself the same question years ago when I had only a dozen of models published at TurboSquid, and gradually I realized that the number of situations can lead people to buy a 3D digital model could be countless and certainly was growing.
There are innumerable kind of 3D content needed worldwide by film industry, television, architectural and medical visualizations, advertisement agencies, game developing and even YouTube show makers.
3D market offers convenient alternatives for companies, which would have to create them from scratch paying more to an employee, instead they can buy it done saving money and precious time.

Imagine you are a small freelance team, and your client wants you to create an advertisement of scary cartoon cat walking over an old rooftop that finds a delicious hamburger. He needs the work done in 7 days and even though  you are an experienced characters animator, there is no enough time to create a full rigged cat and a complex textured rooftop environment. Before telling the client you need 21 days and $2,500.00 in modeling costs; your first steps should be checking 3D Marketplaces and fortunately you will find this great rooftop , this cute cartoon kitten and our already known "expensive" hamburger.
Rooftop ($79.00) + Rigged Cat($149.00) + Hamburger ($39.00) = $267.00
Finally you can start creating animation in minutes after downloading purchased models and costs decreased drastically.
For more real life examples check out these blog posts about uses of TurboSquid models on Bones TV serie and CNN news channel.
EDIT: Adding examples of using my 3D models:
– Baby Care Games created this My Baby Virtual-Pet app with more than 1 million downloads using my Toon Baby character.
Benefits:
Save about 75% of modeling costs.  Achieve quality results under tight deadlines. With Royalty Free Licenses you have the right to use the model in your projects for a lifetime.  Studying your purchased models you can learn techniques from great artists around the world.
Then finally,
Where to buy 3D models?:

TurboSquid:  The largest library of 3D models on the web for every needs, maybe the oldest one too.  Some models are inspected and certified by TurboSquid staff. Here you can't contact the authors directly but the support is excellent.
CGTrader: Not limited to buying 3D models you can also make  requests to have the job done by freelancer artists. You can contact the authors directly and if you are looking for 3D-printing-ready model they are well tagged and easy to find.
3DOcean:  Sill a young service, but being part of the dynamic Envato marketplaces is good to take a look. Prices are very low and quality may be low as well. You can interact publicly and private with authors and can select from two type of licenses.
There are many more 3D models marketplaces I just mentioned some. Just remember to search first before making everything by yourself, you can find good resources at reasonable price and ready to insert in your project development.
Popular Today
Free Lowpoly Donald Trump 3D Character

Lowpoly Donald Trump 3D Character is a minimalist artistic representation inspired by the most relevant features of the real person. Rigged in 3ds Max and ready to use for animations and games. Includes FBX format and Unity Demo. Brought for you, by me, for FREE download using Creative Commons Attribution…

Free LowPoly Style Casual Couple 3D Characters

I'm giving away for free download this male and female 3D rigged characters. LowPoly 3D style is not only attractive is also easy to handle, lightweight mesh data ideal for mobile games and presentations. Characters in very low polygon count don't have to be ugly, the right hand-made simplification preserving…

Free Polygon Painting Script and LowPoly Owl

pX Poly Paint is a 3ds Max script  I felt the need to develop when started creating #LowPoly style models. Based on a basic principle: Each face will have a single flat color from a texture pixel. Then we don't need to make traditional UV Mapping, just map all a…