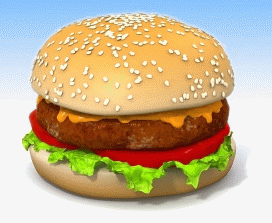 I asked myself the same question years ago when I had only a dozen models published at TurboSquid, and gradually, I realized that the number of situations that can lead people to buy a 3D digital model were countless and certainly growing.
There are innumerable kinds of 3D content needed worldwide by film, television, architectural and medical visualizations, advertisement agencies, game development, and even YouTube show makers.
The 3D market offers convenient alternatives for companies who would have to create them from scratch, paying more to an employee. Instead, they can buy it completely finished, saving money and precious time.

Imagine that you are a small freelance team and your client wants you to create an advertisement of scary cartoon cat walking over an old rooftop and finds a delicious hamburger. He needs the work done in 7 days, and even though you are an experienced character animator, there is not enough time to create a full-rigged cat and a complex textured rooftop environment. Before telling the client you need 21 days and $2,500.00 in modeling costs; your first steps should be checking 3D Marketplaces. Fortunately, you will find this great rooftop, this cute cartoon kitten and our familiar "expensive" hamburger.
Rooftop ($79.00) + Rigged Cat($149.00) + Hamburger ($39.00) = $267.00
Finally, you can start creating animations in minutes after downloading purchased models and your costs have decreased drastically.
For more real-life examples, check out these blog posts about the uses of TurboSquid models on Bones TV series and CNN news channel.
EDIT: Adding examples of using my 3D models:
– Baby Care Games created this My Baby Virtual-Pet app with more than 1 million downloads using my Toon Baby character.
Benefits:
Save about 75% of modeling costs.  Achieve quality results under tight deadlines. With Royalty Free Licenses, you have the right to use the model in your projects for a lifetime.  By studying your purchased models, you can learn techniques from great artists around the world.Finally, it begs the question:
Where to buy 3D models?
Sketchfab
Sketchfab is all about 3D, AR, and VR. You can view models interactively in the browser, offering a unique user experience. It has a community vibe where you can connect directly with authors.
Website: https://sketchfab.com
My products  there: https://sketchfab.com/denysalmaral/store
TurboSquid
TurboSquid boasts the web's largest library of 3D models, offering a wide range of choices. Some models get inspected and certified by staff, ensuring quality. While you can't contact authors directly, their support system is top-notch.
Website: https://www.turbosquid.com
My products  there: https://www.turbosquid.com/Search/Artists/Denys-Almaral
CGTrader
CGTrader allows you to buy 3D models or hire freelance artists for custom work. You can directly contact authors for inquiries or clarifications. They have a good selection of 3D-print-ready models, clearly tagged for easy searching.
Website: https://www.cgtrader.com/
My products  there: https://www.cgtrader.com/3d-models?optimized=1&author=denysalmaral
Unity Asset Store
Unity Asset Store, part of the Unity ecosystem, provides a vast collection of assets from 3D models to scripts, geared towards game development. Reviews help in quality assurance, but author contact isn't a primary feature. Its major benefit is seamless integration with Unity projects.
Website: https://assetstore.unity.com
My products  there: https://assetstore.unity.com/publishers/56099
There are many more 3D model marketplaces, I have just mentioned a few. Just remember to search first before making everything by yourself. You can find good resources at a reasonable price, ready to insert in your project development.
 PS: What to search for models from many marketplaces at the same time? I have a tool for that too!